Letter from J. B. Skemp to Ernst Neustadt
Title
Letter from J. B. Skemp to Ernst Neustadt
Subject
Refugees
Aid, health and rescue organisations
Source
MS. Society for the Protection of Science and Learning (SPSL). 295/6/366. Reproduced with kind permission from CARA.
Relation
UUID
4f0127a1-01f7-43dd-810a-aee102443051
Text
1st February 1946.

Dr. E. Neustadt,
53, Belsize Park Gardens,
London, N.W.3.

Dear Dr. Neustadt,

On going through our files, I noted that we had not heard from you for some considerable time. I am therefore writing to find out how you are and what work you were and are able to do. We should particularly like some sort of statement on the work you did during the war years, as our Committee has asked us to compile statistics on the oar activities of scholars registered with the Society. We are therefore hoping to hear from you.

With best wishes,

Yours sincerely,

J. B. Skemp
Secretary
Files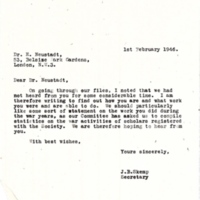 Collection
Citation
J. B. Skemp, "Letter from J. B. Skemp to Ernst Neustadt,"
EHRI Documents
, accessed December 1, 2022,
https://visualisations.ehri-project.eu/items/show/178
.
Item Relations
This item has no relations.