Letter by Alžbeta Helena Donathová to president Jozef Tiso
Title
Letter by Alžbeta Helena Donathová to president Jozef Tiso
Subject
Holocaust
Jewish Entreaties
Creator
Alžbeta Helena Donathová
Source
Ministerstvo vnútra Slovenskej republiky, Slovenský národný archív, fond Kancelária prezidenta Slovenskej republiky, 1939 – 1945, archívna škatuľa číslo 144, číslo spisu 1742.
Text
Vaša Excelencia Pán prezident!
Dňa 26-ho septembra 1941, zadala som si žiadosť o láskavé nimi priznánie árijského pôvodu cestou Vašej milosti.
Som nemanželské dieťa židovskej matky od katolíckeho otca a som katolíčkou. Teraz prichádza mi starať sa o moju slepú starú a o vlastnú matku, ktorá na jednu nohu je chromá a preto práce neschopná, ktorá i so mnou následkom židovského kódexu sme bez všetkého príjmového zdroja a preto vo veľkej núdzi. Ja by som išla do práce ale židia ma odmietajú lebo som katolíčkou a do katolíckej rodiny, do úradov alebo podnikov ma nepríjmu, lebo nemám árijského uznánia. Živíme sa už len za odpredané, avšak nutne potrebné náradie. Po tme, o zime a často i o hlade trávime svoj život. V tejto krajnej núdzi znovu prosím Vašu láskavosť Pán Prezident, ráčte mi udeliť tej milosti priznania árijského pôvodu aby mohla do služby vstúpiť a tak sa postarať o zachránenie živote mojej matky a starej matky.
Za Vašu láskavosť stávam sa Vám navždy dieťaťom.
Alžbeta Helena Donáthová
Diviaky n/Nitricou
Translation
Your Excellency Mr. President!
On September 26, 1941, I applied for your kind recognition of Aryan status through Your grace.
I am the illegitimate child of a Jewish mother and Catholic father and I am a Catholic. I need to take care of my blind grandmother and my elderly mother, who is semi-lame in one leg and therefore unable to work. All three of us, because of the Jewish Code, are without any source of income and therefore in great need. I would work, but Jews reject me because I am a Catholic, and since I am not recognized as an Aryan, no Catholic family, offices, or businesses will hire me. We only live off of what we can sell, even absolutely necessary items. We spend our lives living in darkness, in cold, and often in hunger. In this state of extreme distress, please again, Mr. President, please grant me the grace of Aryan status so that I may enter into service and thus go about saving the lives of my mother and grandmother.

I am a forever grateful child to you for your kindness.
Alžbeta Helena Donáthová
Diviaky n/Nitricou
Files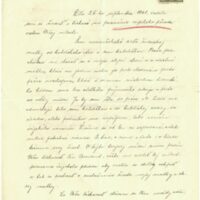 Collection
Citation
Alžbeta Helena Donathová, "Letter by Alžbeta Helena Donathová to president Jozef Tiso,"
EHRI Documents
, accessed June 9, 2023,
https://visualisations.ehri-project.eu/items/show/186
.
Item Relations
This item has no relations.
IIIF Manifest